Projects and how to manage them really can enter every aspect of our lives, and, like projects, life can often let a lot of stuff in through the side door which we are not prepared for. Even something as regimented as training for a half marathon!
Take a look at Paul's experience of training for this years Bournemouth half marathon through the eyes or PRINCE2, the worlds most sought after method of project management...
I received the Project Mandate in October 2016. It was clear and concise. "Run the Bournemouth
Half Marathon on 8th October 2017 and raise awareness and funds for Target Ovarian Cancer".
Starting Up A Project process was triggered and I created the Project Brief. The main features from this are:
Objectives: To raise awareness and funds for Target Ovarian Cancer by completing the Bournemouth half-marathon 8am on Sunday 8th October 2017.

Customer Quality Expectations:

Get sponsored to raise funds.

Finish the race in a respectable time.Acceptance Criteria:

Raise awareness about the symptoms of ovarian cancer.
Raise a minimum of £400.

All training activity must be completed wearing the Target Ovarian Cancer vest.
As a minimum, post 6 updates on each of the Facebook and Twitter platforms to show the symptoms of ovarian cancer.
Complete the 13.1 miles within 2 hours and 30 minutes.
Outline Business Case:

Costs: Effort, commitment and dedication to the training.

Benefits: £400 funds will be raised for Target Ovarian Cancer.Outline Plan

Dis-benefits: You may suffer a small amount of social disruption due to training. In other words, the Gin and Tonic has to wait until you return from evening training.
Outcome: More people (both women and men) will have more awareness to the symptoms of ovarian cancer which will result in earlier diagnosis for many.

April-June: 5km training, twice per week.

July-August: 5km & 10km training, twice per week.

September: 15km training once per week.

October 2017 – 10km training on 3rd, then the half-marathon on 8th October.
Initiating a Project and Managing a Stage Boundary processes followed, which was essentially confirming the outputs from Starting Up a Project. The main development of information was defining the next stages in more details – i.e. the training plans. The Communication Management Approach was created to establish Facebook and Twitter updates throughout the training. There was also to be updates posted on the Just Giving page.
Controlling A Stage: Delivery Stage – April 2017. This all started very well. A few 10km-20km bicycle rides built some fitness in my legs, and then a couple of 5 and 6km runs gave me some confidence for the running.
The Communication Management Strategy was consulted, and a post to the Just Giving page boasted how well the training was going (I was only a couple of weeks in at this point), when an over-confident wave came over me and a bold statement was posted about completing the race in less than 2 hour! Lesson learned – do not unnecessarily change the criteria just to make yourself look like a hero!
Towards the end of April, I completed a 10km in 56 minutes, and remained confident about the 2 hours completion time, again, posting updates to Facebook (via the Runtastic App) and to Twitter. So far so good.
Capturing Issues and Risks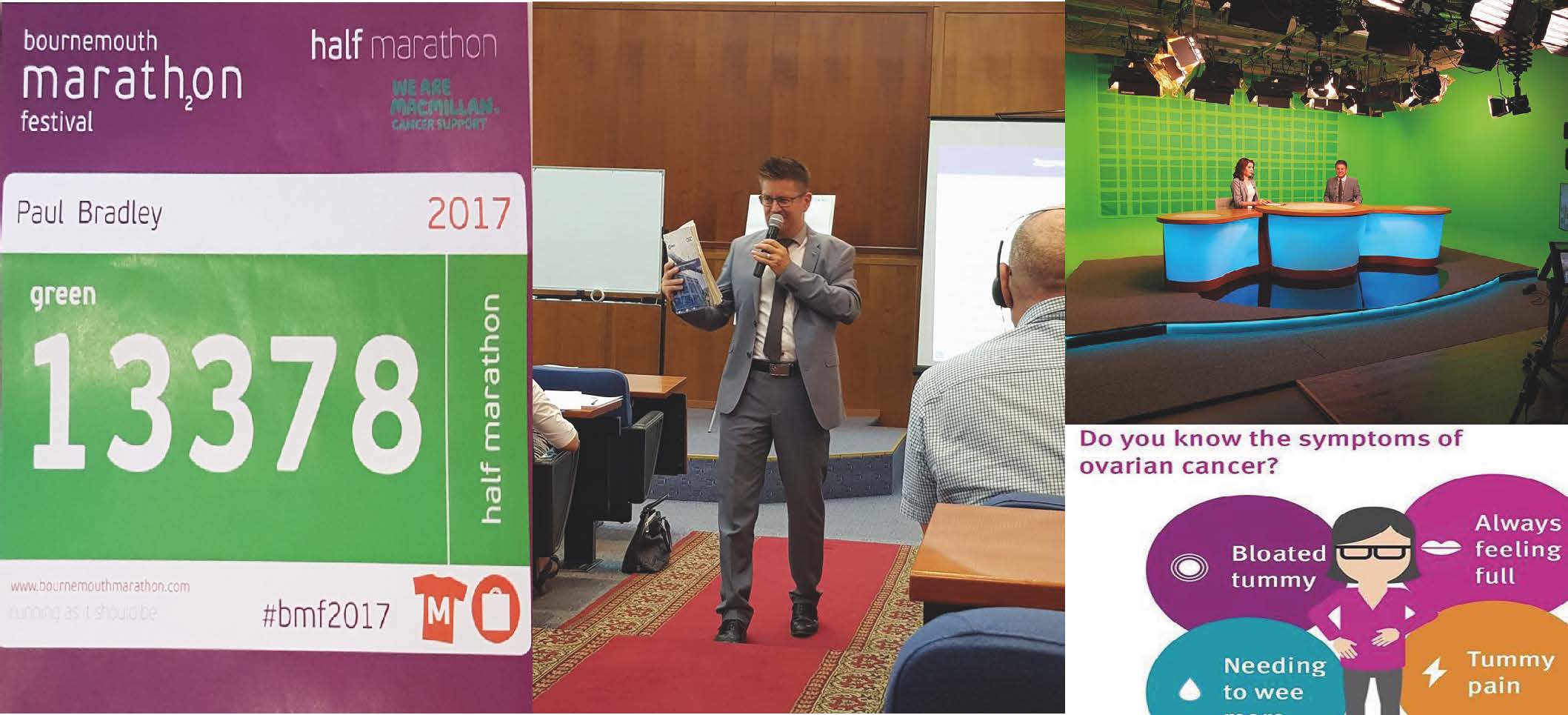 April went really well. May had several training runs building up to 10km, but then a number of issues started to arise:
19th June - Issue: 1 – A last minute one week break in Spain.

Impact: This will affect the training plan and push the timescale back by 10 days.
▪ Corrective Action – Change the training plan and remove all training during this period.
Risk: Low - Could compromise training during July.
▪ Response: Accept the risk and catch up with training on my return.
22nd July - Issue 2: An unplanned business trip to Kazakhstan.

Impact: This will affect the 10km training during this 9 day period and will also have an impact on training during August due to loss of fitness.
▪ Corrective Action – Continue training in Kazakhstan, but reduce the running to one 5km due to the heat and humidity.
Risk: Low/Medium - This might not be completed due to business commitments
▪ Response: Contingency – plan a 20 minute swim that can be done either early morning or late evening if the running does not happen.
28th July - Issue 3: The running and swimming in Kazakhstan was not done. I did not have the inclination or the time to do any training at all.

Impact: 9 days of training lost plus loss of fitness will affect August training plan.

Risk: Medium - Biggest risk is the loss of motivation.
▪ Response: Transfer the impact of this risk with running partners Julia Bradley and Harley Richards to work together on raising the spirits together
August

– Issue 4: Spirits were raised too much. Actually, the wrong spirits were raised. Too much social activity and not enough training (that means "no training"!)

Impact: 3 weeks training lost. Total loss of fitness compounded by previous 3 issues.

Risk: High - Unable to achieve necessary fitness to complete the half marathon.
▪ Response: Ignore that there is a problem and go on holiday. (Ed. This is clearly an unacceptable risk response).
23rd August - Issue 5: Family holiday (booked for in June but overlooked for this project)

Impact: Another 8 days of training lost.

Risk: High - Unable to achieve necessary fitness to complete the half marathon.
▪ Response: Claim life is too busy and I'll do some catching up next week. (Ed. Another unacceptable risk response. This project is on the verge of premature close).
31st August – Issue 6: Business trip Kazakhstan.

Impact: Another 7 days training lost. This amounts to a total of 34 days lost to overseas activity, plus the 21 days lost in August due to laziness. Total days lost = 55.
Risk: High - Unable to achieve necessary fitness to complete the half marathon.
Risk: High – Inability to recognize the severity of this situation and make a sensible decision on what should be with this project.
September 9th - 20th – Issue 9: 50th Birthday celebrations. This was planned for, but the celebrations began, and lasted, longer than expected.
Impact: There seemed to be little point in carrying out an impact analysis.
Managing Product Delivery started again, in earnest on 13th, 23rd, 28th and 30th of September, and a final training session took place on 4th October with a comfortable 10km. Despite the turbulence experienced with this project, a late surge in effort made me confident in completing the half marathon on time to meet the acceptance criteria.
Closing A Project approached rapidly, and it was time to look at reviewing the project to create the End Project Report. Happy to say that all Acceptance Criteria was satisfied:
Raise a minimum of £400.
All training activity must be completed wearing the Target Ovarian Cancer vest.
Met and exceeded. Due to training on the beach between Sandbanks and Bournemouth, I would estimate more than 500 people have read the symptoms that are written on the back of my running vest. This has been one of the most rewarding points for me.
As a minimum, post 6 updates on each of the Facebook and Twitter platforms to show the symptoms of ovarian cancer.
Met and exceeded. There have been 11 tweets, 24 Facebook posts, 3 LinkedIn posts and 7 updates on the Just Giving page. I also hope this blog will help increase awareness of the symptoms too.
Complete the 13.1 miles within 2 hours and 30 minutes.
Met and exceeded. I completed the half marathon in 2 hours and 13 minutes. It's now time for final sign off and Authorize Project Closure! ☺
Paul is the Managing Director of SPOCE Project Management Limited, a leading training provider for portfolio, programme and project accreditation. SPOCE is a pioneer in project, programme, risk and IT service management best practices. SPOCE holds the accreditation certificate number 001 having presented the world's first PRINCE2 training course in 1997.
Paul Bradley is a leading authority on the PRINCE2® project management methodology. With over 20 years in the industry, Paul's knowledge and experience is respected by clients, accreditation bodies and training organisations globally. Paul has been the Director of Training with SPOCE since 2000, and has been an accredited PRINCE2® trainer throughout this time.
See Paul Bradley present "Neither shaken, nor stirred – 'The perfect cocktail for project professionals' at Project Challenge in London Olympia on Wednesday 11th October 2017. See http://www.projchallenge.com/learning-professional-development/ for more details.
Contact
Email - paulbradley@spoce.com
Website - www.spoce.com
Twitter - @prince2expert
LinkedIn - in/prince2expert
Facebook - @prince2expert
Paul's Just Giving page: https://www.justgiving.com/fundraising/p-b?utm_id=121
Target Ovarian Cancer: www.targetovariancancer.org.uk
About SPOCE
SPOCE Project Management Limited is a global leader in delivering best practice training for project programme and risk management. They offer a wide range of courses which can be tailored to suit any form of training need. For example, public courses e-Learning, blended learning and client workshops. SPOCE is the flagship training provider for PRINCE2® and MSP® and were APMGs first ever training provider.
Call; 0800 177 7623 / 0800 17 SPOCE
Email: Clients@spoce.com
Visit: www.spoce.com